Changing Swing look-and-feel
The Swing user interface controls are able to show themselves in different look and feels. And in JBuilder we are able to see the differences between the different schemes during design time.
Right-click in the Visual Designer, and a popup menu comes up: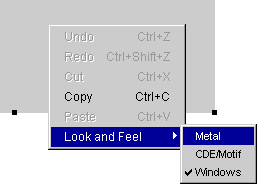 From the Look and Feel menu option, we can choose between Metal, CDE/Motif, and Windows. When we choose one of these options, all the components visible in the Visual Designer will be repainted with the selected look and feel.
---
This webpage © 1997-2009 by Bob Swart (aka Dr.Bob - www.drbob42.com). All Rights Reserved.