Dr.Bob's Borland.comments
Dr.Bob's Borland.comments is a new part of my website with the latest news about Borland, including my own comments and personal feelings. This is also the place to find information about related (developer) events, partnerships and all kinds of related information for the Borland developer tools. If you have any comments or more feedback about what I'm writing here, please let me know!
For more recent news, see Dr.Bob's Borland.comments.
---
2001/12/17 - Borland a Company to watch in 2002
Intelligent Enterprise Magazine has selected a dozen companies to watch in 2002. Among them is Borland, with six consecutive quarters of profitability. Dale Fuller attributes this success to JBuilder's growing market penetration.
---
2001/12/13 - Borland Web Services Kit for Java
The Borland Web Services Kit for Java has just been made available as preview release, and is compatible with JBuilder 6 Enterprise. I've also just received my CD with JBuilder 6 Enterprise, so I'll be working on a paper showing how to "connect" JBuilder and Delphi/Kylix using Web Services. So stay tuned...
---
2001/12/11 - Borland Enterprise Studio 3 for Java
Now that JBuilder 6 is available, Borland also announced the availability of Borland Enterprise Studio 3 for Java.
---
2001/12/10 - Borland is a JavaOne 2002 Platinum Sponsor
Borland announced it has been selected as a Platinum sponsor for JavaOne, Sun Microsystem's 2002 Worldwide Developers Conference.
---
2001/12/07 - Borland InterBase 6.5
Borland has just released InterBase version 6.5 - featuring Cross-Platform Support and Enhanced Security for Developing and Deploying Internet, Mobile, and Embedded Distributed Database Applications.
---
2001/12/04 - Borland Enterprise Server available
Borland announced the availability of Borland Enterprise Server, in three editions: Web, CORBA and J2EE.
---
2001/11/30 - Eclipse.org
Borland, IBM, Merant, QNX Software Systems, Rational Software, RedHat, SuSE, and TogetherSoft announced the formation of Eclipse.org, an open consortium of providers of development tools that manages the Eclipse Platform, which is being made available in open source under the Common Public License. These companies, each of which plans to release Eclipse Platform compatible product offerings, form the initial Eclipse.org board of directors.
---
2001/11/28 - JBuilder 6 Available
According to the press release, JBuilder 6 is now shipping. As soon as I receive my copy, I'll write some articles about it (especially about the "Web Service Toolkit for Java" add-on).
---
2001/11/20 - Borland JBuilder & C++Builder MobileSet
Borland and Nokia announced (at the 6th International Nokia Mobile Internet Conference) that Borland would expand Borland JBuilder and Borland C++Builder MobileSet to support the new Nokia Series 60 platform, as well as a new Borland C++ development environment for the Nokia Symbian OS-based platform.
This means we can develop mobile applications using the forthcoming Borland C++Builder MobileSet, based on the next version of Borland C++Builder, or with JBuilder MobileSet.
---
2001/11/12 - JBuilder 6 and Borland Enterprise Server
Among others, JBuilder 6 and Borland Enterprise Server were announced during the live WebCast earlier today. The Borland Enterprise Server will be available in three editions: the entry-level Web Edition, the Visibroker Edition and the high-end AppServer Edition. There will also be lots of new features in JBuilder 6, including support for Web Services.
---
2001/10/26 - Kylix 2 Quotes
I've spend the last two days playing with the Kylix 2 Enterprise 60-day trial edition, and I firmly believe that the ability to use WebSnap and BizSnap in both Kylix 2 and Delphi 6 to produce cross-platform, state-of-the-art e-business applications that can be deployed on Linux as well as Windows really puts developers ahead of the competition.
---
2001/10/25 - Borland Revenues Rise 16% in Q3
Borland announced its financial results for Q3 ending September 30, 2001. Revenues increased by 16% (compared to Q3 2000), with a net income of $4.7 million.
---
2001/10/24 - Kylix 2 Announced (and Kylix 1 Patches)
Borland has announced the new Kylix 2, with lots of new features, including DataSnap, WebSnap and BizSnap (XML/SOAP). Kylix 2 will be available in three editions: Kylix 2 Enterprise (60-day trial available), Kylix 2 Professional and a Kylix 2 Open Edition (available later in Q4).
At the same time, a number of patches have been made available for Kylix 1. See Dr.Bob's Kylix Kicks for more information and updates of Kylix, as well as some upcoming articles using the 60-day trial of Kylix 2 Enterprise.
---
2001/10/22 - Kylix 2: Announced on Tuesday?
According to ZDNew News, Kylix 2 will be announced tomorrow (Tuesday) by Borland, and will contain support for Web Services (as previously announced by Borland at BorCon in London). A new article on InfoWorld mentions more details.
---
2001/10/08 - Borland and the Java Community Process
In the latest edition of A Sip From The Firehose, DavidI writes about the Java Community Process and Borland's involvement in the Executive Committee.
---
2001/10/04 - Borland Delphi 6.01 Update (fixed)
If you registered your copy of Delphi 6, then you can now use the registered e-mail address and password to download the first (fixed) update to Delphi 6 from http://www.codegear.com/downloads/free/delphi.
Read this article on the Borland Community website for information how to verify your patch version and a list of fixes.
---
2001/09/26 - Web Services strategy for Java
Borland has announced its strategy to provide Web Services development and deployment solutions for the Java 2 Platform, Enterprise Edition (J2EE). Borland will add Web Services support to JBuilder and Borland AppServer. This announcement could mean the bridge between J2EE and .NET in an industry standard way.
---
2001/09/21 - BorCon Announcements!
On Monday, at the opening keynote of the European Borland Conference in London, some interesting pre-announcements were made by Nigel Brown of Borland UK. Nigel Brown showed a time-line and mentioned the upcoming releases of Kylix 2 (Q4 2001) and JBuilder 6 (Q4 2001) and the Borland Enterprise Studio for Java version 3 (with JBuilder 6) and a new Borland Enterprise Studio for Windows (containing both Delphi and C++Builder), both for Q1 2002.
Nigel Brown called Delphi 6 the first development environment from Borland with SOAP and web services support, but made it clear that this [SOAP and web services] would be available in the next versions of JBuilder (6) and Kylix (2).
Also, when asked, Jason Vokes (from Borland UK) confirmed that the next release of C++Builder is also in the works, with SOAP and web services support, of course. There were no comments on C++Builder for Kylix (or Kylix for C++), however.
No press releases or further information had been made available, but the announcement itself came from a reliable source (Nigel Brown and Jason Vokes, Borland UK), and was made at a public conference.
---
2001/09/16-22: BorCon Europe 2001 (UK/NL)
This is the week of the European Borland Conference in London, UK (Sept 16-19) and Noordwijkerhout (Sept 10-22) in The Netherlands. I'll be doing three sessions: VisiBroker 4 for Delphi 6 (Mon/Thu, 15:25-16:25), Cross-platform Development with Delphi 6 and Kylix (Mon/Thu, 16:35-17:35), and WAP with Delphi 6 and Kylix (Tue/Fri, 11:00-12:00).
---
2001/08/28 - Web Services for Linux
Borland will provide Web Services support for Linux with "a RAD solution for Web Services that will expand the Internet capabilities of Apache web servers and applications for Linux using the Borland Kylix RAD development platform."
In other words, we'll probably see an announcement for Kylix Enterprise or something along those lines, with XML/SOAP/WSDL support in Kylix just as we can find in Delphi 6 Enterprise today.
---
2001/08/01 - Borland Releases Kylix Open Edition
At the Borland Conference in Long Beach, Borland announced the immediate availability of Kylix Open Edition. Of course, this news went all over the world, causing the Borland website to become very slowly, but it's back to (almost) normal again, so you can try to download Kylix Open Edition yourself.
---
2001/07/21-25: BorCon2001 Conference Report
The Borland Developers Conference 2001 will be held from July 21-25 in Long Beach (CA). Like previous years, I'll present a "live" Conference Report on this website including details (and photos) of all major events, Borland and third-party announcements and session details.
I'll be performing three sessions at the BorCon in Long Beach:
Tue, 8:00-9:15 CORBA with VisiBroker for Delphi
Tue, 15:00-16:15 Web Development with InternetExpress (and WebBroker)
Tue, 16:30-17:45 Delphi Distributed Efficiency
---
2001/07/10 - Sip From The Firehose: Web Services
In his recent Sip From The Firehose, DavidI takes a look at the hot topic of Web Services. Publishing your web application interfaces over the Internet is the next great evolution in the developent of distributed objects and applications.
---
2001/06/05 - Open Letter on Internet Registration
In an open letter to the Borland Community, David Intersimone Vice President of Developer Relations, outlines the new Internet registration process for JBuilder 5 and Delphi 6.
---
2001/05/30 - Borland Conference 2001
As if we didn't know about it, Borland has just announced the 12th annual Borland Conference, including tracks on e-Business, Design and Architecture, RAD, Web/Internet, Emerging Technologies, and a new Wireless Track sponsored by Nokia.
---
2001/05/23 - Kylix Desktop price down to $199
For a limited time only, the price of Kylix Desktop Developer has been cut down to $199 (compared to $999 previously) until 29th August 2001.
---
2001/05/15 - JBuilder 5 Announced
Borland announced the new JBuilder 5, making Java development easier than ever with more than 100 new and enhanced features.
---
2001/05/08 - Delphi 6 Announced
Borland has just announced Delphi 6, as what they call the industry's first RAD Web Services Development Platform, supporting XML, SOAP, WSDL and XSL. Delphi 6 contains many new features such as dbExpress/DataCLX, DataSnap, WebSnap and BizSnap.
Delphi 6 will be shipping (on June 8th) in three editions:
Delphi 6 Enterprise
Delphi 6 Professional
Delphi 6 Personal
Of course, for true cross-platform development using CLX, you should combine Delphi 6 with Kylix.
---
2001/05/05 - Borland's Patent for 2-Way Tools
Borland has been awarded a patent for its two-way tools (the method for delegation of object events to event handlers).
---
2001/04/26 - Borland Q1 Results
Borland announced its financial results for the first quarter which ended March 31, 2001. You can view the complete release as PDF file.
---
2001/03/28 - Borland Announced New e-Learning System
Borland has announced a new suite of interactive training classes, called the Borland e-Learning Series. The first offering, Java Productivity with JBuilder was produced in cooperation with Referentia Systems.
---
2001/03/07 - Borland Kylix Available
According to the Borland press release: Kylix should be available as of March 7th, 2001. However, in the "pricing and availability" section of the press release it states that "Kylix Server Developer and Kylix Desktop Developer will be generally available before the end of the first quarter 2001." and "Kylix Open Edition will be available by mid-2001.", so we probably still need to wait a little while before we receive our copy, but stay tuned...
---
2001/02/14 - Borland Enterprise Studio Java Edition
Borland just announced the release ofBorland Enterprise Studio Java Edition. Borland Enterprise Studio Java Edition consists of the following leading technologies:
Borland JBuilder, the number one rated and market leading Java development environment
Borland AppServer, an industrial strength J2EE application server
Rational Rose Modeler 2001, the world's leading visual modeling solution
Rational Rose with JBuilder integration to enable round-trip engineering between Rational Rose models and the Java applications produced by JBuilder
Rational Unified Process to ensure best practices and methodology for software development
Macromedia Dreamweaver UltraDev 4 for professional Web application development
---
2001/02/02 - Kylix wins LinuxWorld Award
Kylix has won the Show Favorite Award for Best Developer Tools category of the LinuxWorld Awards. Read JD Hildebrand's report of LinuxWorld Conference and Expo for more news and information resources.
---
2001/02/01 - JBuilder for Wireless Application Development (and Linux)
At LinuxWorld Expo in New York, Borland just announced its licensing of all currently available components of Java 2 Platform, Micro Edition (J2ME) technologies from Sun Microsystems.
At the same LinuxWorld Expo in New York, Borland just announced that several Linux vendors (Caldera, TurboLinux, SuSE and MandrakeSoft) will include JBuilder 4 Foundation with their upcoming distributions.
---
2001/01/31 - Kylix Announced
The official announcement has just been made, and the Borland Kylix website is in place! Kylix contains database support (for DB2 and Oracle8i) and web server support (for Apache). Kylix requires Red Hat 6.2 or higher, Mandrake 7.2 or higher and SuSE 7.0 or higher.
---
2001/01/27 - Kylix Sales Expectations
In the press release on Yahoo regarding the Fourth Quarter and Fiscal Year 2000 Earnings Results, Borland says to believe that "between one million and two million users of its highly successful Delphi and C++Builder(TM) development environments will make the move to this new tool for Linux application development."
---
2001/01/22 - Inprise no more: Borland is back!
Well, it's official: as of Monday, January 22nd, the name Borland is back (including BORL as the Nasdaq ticker symbol instead of INPR).
---
2001/01/18 - Kylix launched at Linux Expo, Jan 31st
The following link mentions the Launch (of Kylix) on Jan 31st at the Linux Expo in New York! Of course, anything can still change, but I'd keep my eyes and ears open on that day...
---
2001/01/14 - Business Week on Inprise
The Jan 22nd issue of Business Week has an interesting article about Inprise (soon to be called Borland again).
---
2001/01/08 - Borland and Referentia
Borland and Referentia Systems Expand E-Learning Agreement to Cover All Borland Software Solutions.
---
2001/01/04 - JBuilder 4 Finalist for SIIA Codie Award
JBuilder 4 is selected as a finalist for the Software & Information Industry Association (SIIA) 2001 Codie Awards in the Best Application Development Product category.
---
2000/12/21 - VisiBroker 3.3 for Delphi 5
John Kaster of Borland Developer Relations has just revealed that Borland is planning to release full VisiBroker 3.3 support for Delphi 5 (both CORBA Server and CORBA Client development - including an IDL2PAS), before Delphi 6 ships.
Some people have even demonstrated the technology at Borland Conferences around the world, like my own session about a prerelease of VisiBroker 3.3 for Delphi 5 at the Inprise UK Conference last September.
As with all their products, it will ship when it's ready. We'll be detailing where and how you can get it and what it will cost as we get closer to a release date.
---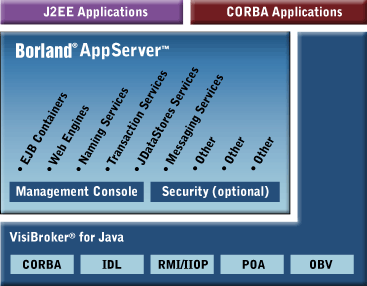 2000/12/15 - Borland Application Server 4.5
Borland has announced version 4.5 of the Borland Application Server, integrating CORBA (VisiBroker for Java) and EJB (Enterprise JavaBeans).
Borland AppServer 4.5 has passed the Java 2 Enterprise Edition (J2EE) 1.2.1 Compatibility Test Suite from Sun.
---
2000/12/12 - Borland in Executive Committee
Borland was elected to the Executive Committee of the Java Community Process (JCP) Program 2.0. The JCP is an open and comprehensive community-based process to develop and revise Java technology specifications, reference implementations and technology compatibility kits.
---
2000/12/11 - The Life and Death of TButton
Robert Kozak, member of the Kylix R&D Team, has written a new article about CLX (he's actually using a future version of Delphi for Windows instead of Kylix (Delphi for Linux) - but it's still CLX).
---
2000/12/08 - PC Magazine Editors' Choice
Borland JBuilder 4 has just won the PC Magazine Editors' Choice award with a five star rating (against VisualAge, VisualCaf&eacute, JDeveloper, ColdFusion, Forte and Dreamweaver).
---
2000/11/28 - Preview, but no Preview Release
According to The Register, Borland is preparing Kylix (aka Delphi for Linux) for a December preview.


However, contrary to what The Register said, Michael Swindell explained to me that a public preview release of Kylix is not planned in December, although public previews themselves (demonstrations and presentations) of Kylix will continue to be given at selected conferences and seminars.
---
2000/11/15 - GNOME Foundation
Borland joins the GNOME Foundation Advisory Board, and will be working together with the GNOME's Bonobo component project and companies like Eazel and Helix Code to deliver Bonobo component support to Kylix developers.
---
2000/11/10 - Back to Borland again
It's official: the name has changed back from Inprise to Borland again (or at least Inprise Corporation plans to change its name to Borland Software Corporation).
---
2000/10/31 - New Borland website
The Borland homepage has a new design, which more clearly points out the three cornerstones (units) of the company: Java, Enterprise and RAD Tools.
---
2000/10/24 - Inprise Q3 Results
The Q3 results of Borland, an Inprise company, shows that revenues have increased again.
---
2000/09/28 - When It's Ready
The big question everybody wants to ask about Kylix is... When Will It Ship? And the answer (to live, the universe and everything) is... When It's Ready! At The Inprise UK Conference Dale Fuller, CEO of Inprise, made it clear that When It's Ready is now more important than the initial goal of second part of 2000.
Of course, they might still aim at launching Kylix before the end of this year, but personally, I'm glad they will make sure - one way or another - that Kylix will ship when it's ready!
---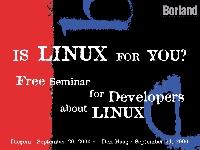 2000/09/21 - Kylix Slides and Paper
The slides and paper of the presentation and demonstration of Project Kylix by Bob Swart and Micha Somers at the free Linux Developers Seminar from Inprise, are now available.
---
2000/09/19 - Gidi Schmidt leaves Inprise
After seventeen years (Gidi started with Ashton-Tate), Gidi Schmidt leaves Inprise/Borland. In his goodbye letter, Gidi Schmidt thanks us all, and mentions his European successor Nigel Brown.
---
2000/09/17 - Kylix in BeNeLux
Next week, a free Linux Developers Seminar will be held in Brussels (Sept 20) and The Hague (Sept 21). Together with Partners Oosterkamp and TAS Advanced Technologies, Inprise will present Linux development tools such as JBuilder 4, VisiBroker/IAS and of course a preview of the Kylix IDE (by Micha Somers and Bob Swart from the TAS-AT Delphi OplossingsCentrum).
---
2000/09/05 - JBuilder 4 Announced
Inprise/Borland announced Borland JBuilder 4, supporting Java 2 and Enterprise JavaBeans 1.1 (EJB) on Windows, Linux and Solaris.

---
2000/08/25 - Sip From The Firehose: Visual Basic
This time, DavidI calls all Visual Basic Luminaries to contact him, so he can send them a complimentary version of Delphi 5 Enterprise.
---

2000/08/23 - IBPhoenix
The initiative by the IBPhoenix group of IBDI members to build a lively and productive environment around Open Source InterBase began last December. IBPhoenis believes that the InterBase community wants and needs reliable support - both for usage and for design issues.

---
2000/08/15 - Inprise/Borland teams up with IBM
Inprise/Borland teams up with IBM to offer latest Java Technology for the Linux Operating System. According to this deal, Inprise/Borland will deliver the IBM Developer Kit for Linux, Java 2 Technology Edition, Version 1.3 with future releases of Borland JBuilder, Inprise Application Server and VisiBroker.
---
2000/08/10 - Sip From The Firehose: C#
In his latest Sip From The Firehose, DavidI asks himself whether or not we have any need for a new language...
---
2000/07/31 - InterBase remains with Borland/Inprise
According to this latest news, InterBase will not be sold, but will remain with Borland/Inprise. The company is planning to fully support InterBase customers by retaining a core team to successfully transition the open source version of InterBase.
---
2000/07/28 - Feedback on Borland Inprise
Some feedback on the Borland Inprise performance from The Register (Borland bounces back in style).
---
2000/07/27 - Inprise Second Quarter Results
Inprise presented the Second Quarter Results (a $4 million profit!) as well as the Annual Stockholders Meeting. It's also nice to read the InfoWorld interview with Dale Fuller, only weeks before the final profit results...
---

2000/07/25 - InterBase Open Source
Inprise/Borland announced the availability of the source code for InterBase 6.0 the cross-platform SQL92 RDBMS (for Windows, Linux and Solaris). InterBase 6.0 has been released under a variant on the Mozilla Public License (MPL) V1.1. Developers using InterBase under this license can modify the code or develop applications without being required to open source them. The open source license applies to all platforms.
---
2000/07/22 - IBM to unveil new Linux plan
It seems that IBM wants to spend 200 million dollars on Linux development. Basically, what they want is for people to develop real-world (database) applications on the Linux platform.


Hmm, I wonder if they've looked at Kylix, yet...
---
2000/07/21 - Can Inprise/Borland Rise Again?
Now this is a serious nagative article from TechWeb about the future of Inprise/Borland. They even dare to claim that JBuilder is the only significant tool of the company (do they really dislike Delphi that much?)


Mark Driver from Gartner and a certain "anonymous" ex-employee were the two making these claims. I wonder if Mark was talking on behalf of Gartner, because he told a different story than the last three Borland Inprise WebLetters containing Gartner Group material; Moving to Linux is More Evolution Than Revolution, Adopting Linux Without Abandoning Windows and The Process of Remodeling Your Business for The Web Begins With Selecting The Right Tools And Building Materials.
---
2000/07/17 - BorCon2000 News
At the Borland Conference in San Diego, Inprise/Borland announced upcoming Apache support for both Kylix (Delphi for Linux) and the next release of Delphi for Windows (Delphi 6). Support for Apache will be included in NetCLX, the new cross-platform web development architecture (part of CLX).
---
2000/07/08-12: BorCon2000 Conference Report
The Borland Developers Conference 2000 was held from July 8-12 in San Diego (CA). Like previous years, we've presented a "live" Conference Report on this website including details (and photos) of all major events, Inprise/Borland and third-party announcements and session details.
---
2000/06/29 - InterBase News
In a letter to the InterBase Community, Dale Fuller and Ann Harrison explain that separating one division (InterBase) from a company (Inprise) turned out to be a difficult process. Until the process is complete, InterBase remains a Borland/Inprise product and is not open source. Until then Version 6 will continue to be available as a free download with a commercial beta license.
---
2000/06/27 - BORLAND CLX
At PCExpo, Inprise/Borland introduced BORLAND CLX the Next-Generation Cross-Platform Library and Component Framework (to be used with Delphi and C++Builder, producing native Windows and Linux applications).
The Borland CLX press release is mentioned by Linux Today.
---


2000/06/22 - Visual Basic Programmers moving to Linux!?
Inprise/Borland offers Visual Basic developers a path to Linux. The name of this path? Delphi for Windows and Kylix (Delphi for Linux), of course. Offering the Visual Basic developers cross-platform capabilities from Windows to Linux!


I think this is a wonderful way to get millions of Visual Basic developers over to Delphi.
---
2000/06/12 - Inprise/Borland Leading Java Pioneer
As a result of three major milestones during JavaOne, Inprise/Borland confirms its position as Leading Java Pioneer.


I have to admit that it's impressive how JBuilder won the Java Pro's Reader's Choice for Best Java IDE, and an agreement to license Java 2 Enterprise Edition (J2EE) from Sun Microsystems and joining the Executive Committee (EC) of the Java Community Process (JCP) is important as well.
---
2000/06/09 - Open Door Policy
Dale Fuller keeps on with his Open Door Policy. In his latest letter, the CEO clarifies Inprise/Borland's open door policy regarding comments and questions directed to Ted Shelton the Senior Vice President of Business Development.


This reminds me a bit of the positive feeling we had at BorCon99 last year, where Dale Fuller made his "open" introduction as member from the audience. Back then, the message was "the community", right now it opens up the ability to send feedback (by e-mail) to Ted Shelton. This means that everone now has a chance to send in his/her feedback and feelings - so use it (wisely)...
---
2000/06/06 - First Ever Public Kylix Screenshots
You don't want to miss this: the first ever public screenshots of Kylix, brought to you first by Dr.Bob's Kylix Kicks.
---
2000/05/17 - Inprise/Borland Back on Track?


Now that the merger with Corel is no longer going to happen (and I must admit that I'm not too sad about it personally - anyone remember that on-line poll of mine a few months ago?) I still have a few questions left.
Like, what will happen with the name of the company? Will it be Inprise (still? again?) or back to Borland (again?). If the former is the answer: what about the auction of the Inprise sign on eBay?
And what about Kylix? True, everybody says that the broken merger will not cause any harm for Kylix. But let's face it: Inprise is (still) a relative newcomer to the Linux market (even with InterBase, JBuilder and VisiBroker), and I feel they can't have enough strong partners to give Kylix the marketing momentum it deserves...

No matter what all these answers will turn out to be; Inprise/Borland it on it's own again, and as Dale Fuller said: "Inprise/Borland is well positioned with improving operating results and substantial liquid assets. Future operations will continue to follow our increasingly successful strategy of creating solutions that enable companies to move their businesses to the Internet. We will create the tools necessary to leverage new platforms for Linux, Solaris, and Windows 2000, and provide superior services to Application Service Providers."


Well, I personally can't wait to see Kylix (and Delphi 6), so please keep up the good work guys...
---
2000/05/16 - Inprise/Borland - Corel merger terminated
Inprise/Borland and Corel have terminated the proposed merger agreement!
---

2000/05/11 - Kylix Kicks...
This page always contains the latest news on the most recent version of Delphi. At the Conference to the Max, last week, Charlie Calvert gave some public demonstrations of Kylix, and a few colleagues of mine (Rick Beerendonk and Arnim Mulder - not under NDA) attended this public session (like a few hundred others) and have prepared a report with some of the details Charlie showed. As soon as it's cleared, we'll put it on this website (which will be the introduction of a new sub-site called "Dr.Bob's Kylix Kicks")...
---
2000/04/28 - Troll Tech's Qt (GUI) for Kylix
Inprise/Borland announced a licensing agreement covering Troll Tech's Qt graphical user interface (GUI) application framework. As a result of the agreement, Inprise/Borland can leverage Qt in Kylix, the forthcoming Delphi and C/C++ rapid application development (RAD) environment for Linux.
---
2000/04/10 - Visigenic vs. IONA
Inprise/Borland (Visigenic) alleges that IONA has engaged in a pattern of wrongful conduct to the detriment of Inprise/Borland, its shareholders and its employees. Inprise/Borland alleges, among other things, that Iona has wrongfully solicited Inprise/Borland employees, diluted the Inprise/Borland trademark, including its logo, interfered with Inprise/Borland's customers, libeled the Company by spreading misinformation about Inprise/Borland products and services, and engaged in unfair competition under the California Business and Professions Code.
---
2000/03/24 - Kylix Kick Start
This week, Borland hosted more than 200 third-party authors, consultants, trainers and tool and component vendors for the first in a series of worldwide events designed to prepare third party products and services for Kylix. Kylix will be a high performance Linux rapid application development environment that will support Delphi, C and C++.


I was unable to attend the Kylix Kick Start myself, but will attend the one in Amsterdam early May 2000. Until that day, we're playing (and waiting) with three different Linux machines (Red Hat, SuSE and Corel)...
---
2000/03/03 - How Do You Feel About It?
Most people were taken by surprise with the news about the upcoming Corel - Inprise/Borland merger, announced three weeks ago. That's why I started a little on-line poll: How are you feeling about this deal? Over 900 people have shared their thoughts by participating in Dr.Bob's first on-line poll. Here are the final results: The first question - about the personal feelings regarding the upcoming merger agreement between Corel-Inprise/Borland - is answered as follows (918 votes):



Don't Care: 6.6%


Very Positive: 9.7%


Positive: 31.8%


Not So Positive: 34.5%


Negative: 17.3%

Optimists would say that only 17.3% are against the Corel-Inprise/Borland merger, while pessimists would say that only 41.5% are (very) positive about it. All in all, although there are more plain "negative" than "very positive" votes, I feel that most people are at least leaning towards a positive attitude. Of course, time will tell, but I too feel more positive ("positive") now than I felt when I started this poll (when I was "not so positive", mainly because of a number of unknown factors which are now becoming more and more clear).
For example: most comments given were regarding the (continuing) use of the Borland brand name. In that regard, it might be helpful to give you the comment of DavidI - who also voted in my poll - on this issue:
"The Borland brand name will continue (Inprise will go away - YAY :). We'll still be here working on developer tools. We're building Delphi 6 and Kylix at the same time." - David I - VP Developer Relations, Borland
---
The second question - about the most useful development environment - is answered as follows (625 votes):
Note that for each "most useful development environment" I'm also showing the "merger-feeling"-vote that person made (this shows that people who voted for Delphi 6 are less positive about the merger than people that voted for Kylix, for example).






Delphi 6: 65.3%





Kylix: 17.6%





C++Builder: 8.8%





JBuilder: 6.1%

Well, I don't believe this leaves room for any doubt. Of course, we must realise that most people who voted in this on-line poll are (regular) visitors of my website, which is mainly about Delphi for Windows, and (slightly) less about C++Builder and JBuilder - and not (yet) about Linux or Kylix for that matter. We'll see if these figures changes over time.
For now, the above statement from DavidI should indicate that Borland is still working hard on both Kylix and Delphi 6...
---
2000/02/25 - MIDAS 3 License Pricing
The best news in months: for MIDAS 3, Borland just slashed the suggested list price from US$ 5000 to US$ 299.95 for unlimited usage servers. This is not a typo: less than 300 US-dollars for an unlimited client license per machine (with up to four CPUs), running any number of MIDAS application servers!
Delphi 5 Enterprise and C++Builder 5 Enterprise contain a MIDAS 3 developer license, and MIDAS 3 deployment licenses are now available for an extremely competive market price. Thank you Borland!
---
2000/02/20 - Visigenic Resurrection
Now that Corel merges with Inprise/Borland, and the Inprise name will disappear, it has been decided that the Visigenic brand name will be resurrected again for products like VisiBroker, Application Server and AppCenter. Similar to the Borland brand name which is kept for Borland Delphi, C++Builder and JBuilder.


It seems Inprise is gone - the new company will be called Corel, with brand names Borland, Visigenic and InterBase (as new subsidary company?) which at least feels good - a bit like coming home again...
In case you didn't vote before: you still have about a week to let us know how you feel about the upcoming merger!
---
2000/02/17 - Windows 2000
Windows 2000 has been launched, and John Kaster has put together some notes on features of Windows 2000 (or Office 2000) supported by Delphi 5 and C++Builder 5. Note that some of the Delphi 5 features will require the Delphi 5 update patch.
---
2000/02/14 - New Company InterBase
Inprise/Borland announced the formation of a new company (called InterBase) that will provide service, support and hosting for a new version of InterBase, the first open-source embedded relational database product. InterBase 6 is currently in beta, in open-source form for multiple platforms, including Linux, Windows NT and Solaris. The source code for InterBase 6 is scheduled to be available mid-2000.


I must admit that I'm a bit confused here. I thought that a separate Inprise division (or was it company) called InterBase was already behind the DBMS product called InterBase. But perhaps it was only a division, and will now be a real company. I wonder what this means for the maintenance and support of InterBase 5.6...
---
2000/02/12 - Borland Stays!
Based on a reliable source - the auction of the Inprise sign on eBay - we now know that the name Borland will stay (and Inprise will go away).


I'm glad to learn that at least the name Borland will stay, so it'll be Borland Delphi no matter what...
---
2000/02/07 - Corel - Inprise/Borland Merger
Corel and Inprise/Borland announced that they have entered into a definitive merger agreement. Upon completion of the merger, the combined organization, called Corel, will be a Linux powerhouse, offering a single source for end-to-end solutions featuring a range of productivity applications, development tools, and professional services for all major platforms.
---
2000/02/04 - Inprise/Borland for Linux


Inprise/Borland is indeed giving a lot of attention and focus towards Linux (and Linux development tools). At LinuxWorld they made several announcements as a part of their ongoing commitment to the Linux community. We already knew about the Linux Community on the Inprise/Borland Web site, and now this has been extended with a special Linux track at the Inprise/Borland annual developers' conference.
And last but not least we've seen announcements of Linux versions of the Inprise Application Server 4.0 and VisiBroker 4.0.
---
2000/02/02 - Borland Community
The beta signs have disappeared: Borland Community is on-line and has reached the next level.


I'm sorry we still have to miss the daily developer columns, but I'm glad that the community is mainly about Inprise/Borland development tools and techniques again...
---
2000/01/26 - Announcing C++Builder 5
Inprise just announced the upcoming C++Builder 5: a major new version of its award-winning ANSI C++ rapid application development tool for building Windows and Internet applications. C++Builder 5 is scheduled to be available next month in three editions.
---
2000/01/18 - A Sip From The Firehose
In his latest Sip From The Firehose, David I covers 1999 as Year In Review - Back to the Fundamentals; he takes a look back at the year just finished, and also looks forward to the year 2000.
---
2000/01/14 - Bill Gates and Microsoft
Bill Gates has decided to step back at Microsoft, and take the position of Software Architect instead - unleashing his vision on future versions of Windows, among others.


Personally, I hope this will bring back the "fun" for Bill, which was hard to find the past few years.
---
2000/01/05 - InterBase 6 Open-Source
Inprise just announced that it will make InterBase 6 available as Open-Source for multiple platforms including Linux, Windows NT and Solaris! At the same time, they'll continue to sell and support InterBase 5.6 through the normal distribution channels.
---
2000/01/01 - No Sign of Y2K BUGs
From this place, I want to wish everyone at Inprise/Borland, but also Borland users world-wide (developers and end-users alike) a very happy and productive new year. Although only a few hours young, it looks like we were ready enough regarding the Y2K bug, as very few - if any - world-wide incidents have been reported. Of course, it's not Monday yet, so let's keep our fingers crossed for Jan 3rd when the world economy is (re-)started again.
---
1999/12/22 - Linux Community
To add support to the growing Linux Community, a fourth community has been opened on bdn.borland.com - yes, you guessed it: on Linux.
---
1999/12/16 - JBuilder 3 Foundation Edition
Almost 100,000 downloads of JBuilder 3 Foundation Edition have been made, with the Linux:Windows ratio being 2:1.
---
1999/12/09 - JBuilder 3 Foundation Edition
At the Java Business (SM) Conference in New York City, Inprise announced the availability of JBuilder 3 Foundation, a cross platform development environment for creating Java™ 2 platform-based applications for Linux, the Solaris™ Operating Environment, and Windows. Available for free download at http://www.borland.com/jbuilder/foundation/.


Note that this is the first official available version of JBuilder for Linux. JBuilder Foundation is the new foundation for the future of the JBuilder product line and the perfect companion for the JDK.
---
1999/12/08 - VisiBroker 4.0
Inprise announced the shipment and immediate availability of the Inprise Application Server 4.0 and VisiBroker for Java 4.0, its Object Request Broker (ORB). VisiBroker for C++ 4.0 is scheduled to be available in the first quarter of 2000.



At the same time, VisiBroker for Delphi has been made available for free download. This tool implements the OMG CORBA specs for Delphi developers, and contains an IDL2PAS, among others.
---
1999/12/07 - Java 2 Platform for Linux
Together with Sun, Inprise has produced a Linux version of the Java 2 Platform, Standard Edition (J2SE). This enables Java programmers to develop applications on the Java 2 platform and deploy them on Linux, as well as move existing Java 2 applications to Linux!


Note that the Linux J2SE is also a prerequisite for the upcoming JBuilder for Linux. It looks like the new strategy of Inprise pays off. At least the stock is up. And not by a little bit, too. Early November, the price was still US$ 4, but now the price is around US$ 14 - that's an increase of $10 or 250% in six weeks!
---
1999/11/19 - Inprise new Strategy
Inprise Corporation's interim President and CEO Dale Fuller unveiled the company's new strategy in support of application service providers (ASP). In addition, Fuller announced plans to create the new Inprise AppServices, a new service to integrate software and services from many application service providers into a single, easy-to-use suite.


They even revamped the website and invented a new term for all this: webvolutionaries. I'm a bit sceptical about all this, but let's see what time brings us. At least the stock is up!
---
1999/11/07 - 11th Annual Conference, San Diego, July 8-12 2000
Only a short time until the call for papers closes! The 11th Annual Borland & Inprise Conference will be held from July 8-12, 2000 in San Diego again. This year's conference will focus on the Internet, e-commerce, and distributed computing in addition to the essential sessions that are always provided.


This will be the third time in San Diego that I'll plan to attend - as a regular speaker (since 1993) - if my papers on WebBroker, InternetExpress and N-Tier Web Development get accepted, of course!
---
1999/10/20 - Inprise Announces JBuilder for Solaris
Inprise announced JBuilder 3 Enterprise, Solaris Edition, making one JBuilder available on the Solaris operating environment.
JBuilder 3 Enterprise is the most comprehensive visual development tool for creating Java-platform based applications and applets that can also include JavaServer Pages technology and Java Servlets technologies, JavaBeans and Enterprise JavaBeans technologies, and distributed CORBA applications for the Java 2 platform. JBuilder 3 Enterprise, Solaris Edition, also includes support for the forthcoming Java 2 Platform, Enterprise Edition (J2EE).
"JBuilder 3 Enterprise now opens the door for Solaris developers to rapidly deliver scalable, Web-enabled, enterprise applications for the Java 2 platform," said Dale Fuller, interim president and CEO of Inprise Corporation. "By creating products that support the latest technologies and major platforms, Inprise is committed to providing our customers with the application development tools they need to conduct business over the Internet."
"We are pleased to see Inprise continue its strong support for Sun's technologies with its new JBuilder 3 Enterprise, Solaris Edition," said Jon Kannegaard, vice president and general manager of the Java platform, Software Products and Platforms, at Sun Microsystems, Inc. "With support for the forthcoming Java 2 Platform, Enterprise Edition, JBuilder 3 Enterprise will enable developers to simply and quickly create interoperable, multi-tier enterprise applications based on the Java 2 platform."
---
1999/10/19 - Inprise Centralizes European Customer Support
Inprise will centralize its European customer support operation in Amsterdam to provide 24x7 customer support throughout Europe. The announcement follows the recent expansion of Inprise's European Professional Services Organization (PSO) to provide a center of excellence in CORBA and Application Server consulting skills.
Inprise is establishing a Worldwide Customer Support Group with three major support centers around the globe in: Scotts Valley, USA; Singapore; and Amsterdam, the Netherlands.
---
1999/10/06 - Inprise EJB and CORBA integration
Industry's First Application Server to Fully Integrate EJB and CORBA At Internet World, Inprise announced the beta release of the next version of its Inprise Application Server, as well as the latest releases of AppCenter, its distributed application management solution and VisiBroker, its Object Request Broker (ORB).
---
1999/10/03 - Inprise Announces WebCore
At Fall Internet World in New York, Inprise will announce WebCore, an Enterprise Java Beans-compliant application server that leverages Inprise's Java tool and object request broker technology for an integrated platform to build and host Web applications. As an EJB 1.1-based server built on top of the VisiBroker 4.0 ORB, WebCore will merge EJB and CORBA 2.3 services on the Windows NT and Solaris platforms to allow a central point from which to integrate legacy and host applications with new, Java-standards based applications.
---
1999/09/29 - C/C++ and Delphi for Linux
Inprise announces commitment to support C, C++ and Delphi development on Linux. The Borland VCL for Linux will be designed to radically speed native Linux application development and simplify the porting of Delphi and C++Builder applications between Windows and Linux.
---
1999/09/28 - Inprise and Corel form Strategic Alliance
Inprise and Corel form Strategic Alliance to Accelerate Linux OS and Application Adoption. The alliance extends the existing cooperation between Inprise and Corel to provide enterprise-class Linux solutions to development teams who are building mission-critical applications.
---
1999/09/27 - JBuilder Java 2 Just-In-Time Compiler For Linux
Inprise has just announced the availability of a preview release of a JBuilder Java 2 Just-In-Time (JIT) Compiler for Linux. The new JIT, available for free, increases the performance of Java 2 applications on Linux.
"This is yet another step in Inprise's ongoing commitment to provide world-class development tools, databases, and middleware for Linux." said Dale Fuller, CEO Inprise.
---
1999/09/26 - We missed you a lot!
J.D. Hildebrand is back at work -- and nobody's gladder than he is. Read his first official editorial (did you miss me?) for the Borland Community website.


JD, I'm so glad you're back. It was a big shock for developers worldwide when WinTech Journal and your other magazine & journals were killed, and you and Bobbi were sent into exile for years. Your visionary, insightful, entertaining and sometimes daring editorials have been missed for too long.
You have been and always will be my hero and inspiration. Welcome home at the Borland Developer Community!
---
1999/09/14 - Inprise Chief Talks about Borland's Future
Dale Fuller is interim CEO and President of Inprise Corporation. Before coming to Inprise, Fuller was President of WhoWhere, an Internet directory service acquired by Lycos, and was a Vice President of Apple Computer, where he was in charge of their PowerBook division. Dale spoke with DevX Editor and Producer Matt Carter last week at their headquarters in Scotts Valley, California (you can read the interview, but also listen to audio of the entire interview (24 minutes, Microsoft Windows Media Player format).


I've read the interview with much interest. I'm pleased with the fact that Dale is indeed a developer. His views on Linux, Java and XML are worthwhile to note. I'm also glad to see that he sticks to the image of being the interim CEO ("and not a rock star").
---
1999/09/04 - J.D. Hildebrand Content Czar for Community site
Inprise named J.D. Hildebrand content director and editor-in-chief of Inprise's online community for software developers. The service is currently being previewed at http://bdn.borland.com. The goal of the new site is to provide information and services to software developers worldwide.


I'm excited to learn that my old friend JD is now officially the "Content Czar" for the Borland on-line community! Like we said earlier: both Mr.Haki and Dr.Bob will provide columns (about JBuilder and Delphi) for the Borland Developer Universe, so stay tuned for further news...
---
1999/09/03 - Delphi 5 Arrives...
Delphi 5 is shipping! I've just received my box with Delphi 5 Enterprise, and so have many people around the world.


We noticed a few differences between the (Northern) European and US-box of Delphi 5 Enterprise. Both boxes contain the Delphi 5 Enterprise CD, a JBuilder 2 Pro and C++Builder 3 Pro CD, the Companion Tools CD, the Delphi 5 Quick Start Guide, the Delphi 5 Developers Guide and an InterBase manual. The European box also contains the ObjectPascal Language Guide (which is missing in the US-box). The US-box, on the other hand, contains a CD with HoTMetal Pro 5.0 (which is missing in the European Box).
Apart from that, I found that my tools (HeadConv, IntraBob and Required) were not present on the Delphi 5 Companion Tools CD-ROM. There seems to be another problem with the autorun.inf on that CD, so we may be looking at a re-run at some later time. Stay tuned...
---
1999/08/23 - BDE/SQL Links 5.10 Update
The latest BDE/SQL Links version 5.10 (update) has been made available for download (at 11,865,988 bytes). This BDE 5.10 upgrade install will update any previous version of the US 32-bit BDE drivers with BDE 5.10.
Apparently, the BDE 5.10 is the same as the one used in Delphi 5.


It's good to see that we finally have one official latest release of the BDE 5.10 (after we had three different "latest" versions 5.01). Assuming this is the same BDE 5.10 that ships with Delphi 5, of course!
---
1999/08/20 - Linux Developer Survey Results Available
Inprise has made available the Linux Developer Survey results. One of the conclusions that can be drawn (according to Inprise) is that Mainstream Application Development is next for Linux.


It's good to see that so many people (24,194) have completed the Linux Developer Survey.
---
1999/08/12 - Inprise announced commitment to Linux
At Linux World Conference & Expo, Inprise announced its commitment to support the Linux platform. The company announced the immediate availability of VisiBroker for Linux, a new version of its award-winning object request broker, and is demonstrating JBuilder for Linux, its upcoming Java development tool, on the showroom floor at Linux World.


It's great to see the commitment of Inprise to Linux pay off. VisiBroker for Linux means yet another way for Delphi and C++Builder to "connect" to Linux! Also, the new edition of JBuilder (codename: PrimeTime - 100% pure java) is almost ready, and it's only a matter of time before PrimeTime ships for Linux, Solaris (and then NT again I guess).
---
1999/08/05 - Dale Fuller joins board of OMG
Inprise Corporation announced that Dale Fuller, interim CEO and president, has joined the Board of Directors of the Object Management Group (OMGT), a software consortium that establishes component-based software specifications for enterprise-wide distributed object computing.


It's always important for a tool vendor to be "represented" in the Object Management Group. To join the board of directors is even better, of course!
---
1999/08/01 - Borland Community
The links are appearing all over borland.com now: the new bdn.borland.com, which will become a true on-line Community for Borland.com and Beyond.


My old friend JD Hildebrand has recently joined Borland as content manager (or editor-in-chief), and I'm truly looking forward to add my share to this on-line Programmers' Universe. In fact, both Hubert A. Klein Ikkink (aka Mr.Haki) and Bob Swart (aka Dr.Bob) are planning to write regular articles for the new Borland on-line Community website.
More information will be posted here (like what kind of articles, how regular, where exactly, etc.) once it becomes available, so stay tuned...
---
1999/07/17-21: BorCon99 in Philadelphia


Don't miss the 10th Annual Inprise/Borland Conference in Philadelphia. We can preview the next version of Delphi (I'm expecting some announcements regarding Delphi at BorCon99 - from Borland as well as TurboPower, for example).
On behalf of the new company TAS Advanced Technologies, I'll be presenting a Delphi Efficiency and Advanced WebBroker session (as well as a JBuilder JavaBeans session).
Like previous years, I'll be presenting a "live" Conference Report from Philadelphia itself, so stay tuned as this 10th annual event is sure to bring us a lot of interesting news!
---
1999/07/10 - Borland Linux Developer Survey


Borland is looking for your feedback on Linux software development. Take the Borland Linux Developer survey to help shape the future of Borland developer tools for Linux! The survey should take approximately five to eight minutes to complete, and the results of the survey will be published at a later date after the survey has been completed. Your responses will remain completely anonymous. However, at the end of the survey, you can decide to leave your e-mail address if you wish to be placed on the Borland Linux mailing list.
---
1999/07/08 - Inprise Patent Details...


I recently discovered that one of the patents, granted to Inprise (at the same day the Microsoft-Inprise deal was announced) is actually a patent (#5,911,070) about RAD. Officially, it reads as follows:
Development system with methods for bi-directional application program code generation
Development system with visual designer tools (Designers) are described for generating and modifying program code. During system operation, a user employs the Designers to visually create an application program and generate a source file. Moreover, the user can proceed to edit the file with a text editor and then return to the Designers to edit the form visually. Each Designer is a bi-directional or " two-way" tool: the user can modify a form either visually with a Designer, or by editing the generated code in a source (text) file with a text editor. The user can use both techniques interchangeably--switching at will. All changes which occur in Designers are reflected in the generated code and vice versa.


If Microsoft indeed paid for this patent (among others), then I wonder how many other companies will (have to) follow their example...
---
1999/06/23 - Microsoft-Inprise (more details)...
Reports from the Microsoft-Inprise deal include Inprise's commitment to support the Microsoft Windows 2000 operating system, including the COM+ and the Windows Distributed InterNet Applications (Windows DNA) architecture; and to license the latest version of the Microsoft Foundation Classes (MFC), the C++ class library for developing applications for Windows. MFC will ship with Borland C++Builder (but will not replace the VCL).
Inprise will also license the latest version of the Windows platform software development kit through the Microsoft Open Tools licensing program.
---
1999/06/10 - Sun Selects VisiBroker ORB
On the same day as the Microsoft-Inprise deal, Sun selected Inprise's VisiBroker Object Request Broker for Solstice Enterprise Manager CORBA Support. Hereby, Sun builds upon its customer commitment to support CORBA Technologies.
---
1999/06/09 - Behind the Microsoft-Inprise deal
Deborah Gage, Sm@rt Reseller, writes:
Microsoft Corp. has spent the last year and a half in court battling Sun Microsystems Inc. for the right to integrate Java with Windows -- and the case isn't settled yet. But yesterday Microsoft invested $125 million in Inprise Corp., giving Microsoft access to Pure Java development tools, a COM-CORBA bridge, the Inprise Application Server and several other technologies that Inprise claims could integrate the long-delayed Windows 2000 with the rest of the enterprise world.
The timing of the deal was not so coincidental, says Dale Fuller, Inprise's interim president and chief executive officer. Fuller claims that part of the reason Inprise Chairman and CEO Dell Yocam left the company earlier this year was because Yocam did not agree that Inprise should do the Microsoft deal.


Personally, I don't entirely buy this last statement; it's not consistent with Del Yocam's statement (back in November 1998 at the Inprise Conference in Tokyo) that "Inprise is ready to help Microsoft, Sun and customers of both companies obtain the benefit of 100% Pure Java cross-platform technology by licensing our JBuilder technology to Microsoft".
It's too bad we don't know the full details behind the "$100 million Microsoft paid Inprise for the rights to use Inprise-patented technology in Microsoft products and to settle a number of long-standing patent and technology licensing issues" - but we can be sure that Microsoft would want its money's worth...
---
1999/06/08 - Inprise and Microsoft sign Strategic Alliance
Microsoft and Inprise announced the completion of a set of strategic technology and licensing agreements that will be the foundation for a long-term alliance between the two companies. The announcement includes a $25 million purchase by Microsoft of shares of Inprise preferred stock.
Key components of the arrangement include Inprise's commitment to do the following:
Support the Microsoft Windows 2000 operating system, including the COM+ and the Windows Distributed interNet Applications (Windows DNA) architecture. Inprise will enhance its family of Windows development tools to support this technology as well as the Windows-based DNA architecture and to conform to the Windows 2000 Application Specification.
License the latest version of the Microsoft Foundation Classes (MFC), the standard C++ class library for developing applications for Windows. MFC will ship with Borland C++Builder.
License the latest version of the Windows platform software development kit (SDK) through the Microsoft Open Tools licensing program. Elements of the Windows platform SDK will be incorporated into Inprise's Borland family of Windows-based development tools.
In turn, Microsoft made a long-term commitment to provide Inprise with technologies related to the Windows platform and Internet technologies. Microsoft also paid Inprise $100 million for the rights to use Inprise-patented technology in Microsoft products and to settle a number of long-standing patent and technology licensing issues. The total value of the investment and payment to Inprise is $125 million.


Personally, I think this is good news for Inprise/Borland, very good news for Delphi (especially for future Delphi 5 customers), a bit less for C++Builder (personally, I don't like MFC that much), and I'm not sure about JBuilder, but it looks like some Java technology will "move" from JBuilder to Visual J++ (or at least I think/expect so).
All in all, I see more positive than negative results (a possible negative point might be the increasing influence Microsoft gets on Inprise/Borland). Time will tell for sure...
---
1999/05/26 - Inprise Announces Tenth Annual Inprise and Borland Conference
Inprise Corporation has announced Dale Fuller and Nicholas Negroponte as keynote speakers for the upcoming tenth annual Inprise and Borland Conference to be held in Philadelphia, July 17-21, 1999.


I will be doing four sessions myself. One (repeat) session about JBuilder 3 JavaBeans, and two Delphi sessions, about Advanced WebBroker Technology and the annual Delphi Efficiency session (including network efficiency tips).
---
1999/05/16 - borland.com renamed Borland again?
In an open letter to customers, the presidents of Inprise and Borland adresss the recent executive changes at the company, and share their feelings and ideas about the future of both Inprise and Borland.


Between the lines, you can read the name change of borland.com to Borland once again. We seem to have gone full circle about now. Time to look forward! GO BORLAND
---
1999/05/09 - Borland Announces the Developer Support TechAlert Listserver
Borland announces the Developer Support Listserver. You can expect to receive bi-monthly (or more frequent) TechAlerts, created and sent by our Developer Support Engineers. We have started this list in order to pro-actively disseminate bug descriptions and workarounds. TechAlerts will also feature brief articles addressing solutions to frequently encountered technical issues.
---
1999/04/22 - JBuilder 3 for Windows, Solaris and Linux
JBuilder 3 will be available on multiple platforms: first, on Microsoft Windows in May (which is the subject of this website); second, on Sun Solaris, which is planned to be available before the end of the calendar year; and third, on Linux, which is planned to be available following the Solaris platform release (so probably sometime next year).
The Windows version of JBuilder 3 is not yet 100% pure Java, which accounts for most of the porting issues for Solaris and Linux.


I think it's great that after InterBase for Linux, Inprise is now looking at other non-Windows platforms for other tools as well. JBuilder is the perfect choice to turn into a 99.9% pure Java version that could run on multiple different platforms!!
---
1999/04/19 - JBuilder 3 Web Launch
borland.com announced JBuilder 3 - the latest release of the visual Java development environment from borland.com, supporting Java 2! We've had a week with sneak previews, and now it's the turn for the official information from borland.com - so take a good look at http://www.borland.com/jbuilder for the latest news.
JBuilder 3 comes in three editions: JBuilder 3 Standard (entry-level visual Java development), JBuilder 3 Professional (serious Java development) and JBuilder 3 Enterprise (Java CORBA development).
---
1999/04/14 - Dale Fuller new CEO Inprise
Reliable sources have confirmed that Dale Fuller will become new the chief executive of Inprise. Dale Fuller (former vice president and general manager of the PowerBook business unit for Apple and former president and chief executive of the WhoWhere online directory) replaces Del Yocam, who resigned from Inprise March 31st.
---
1999/04/01 - Del Yocam resigns!
Yesterday, March 31st, Inprise Corporation announced the resignations of Chairman of the Board & CEO Del Yocam and Chief Financial Officer Kathleen Fisher.
---
1999/02/12 - Oracle8i with VisiBroker ORB
Oracle has made an agreement with Inprise to selected Inprise's VisiBroker as one of its worldwide standards for CORBA object request broker (ORB) technology. To date, VisiBroker has been integrated into Oracle8i, Oracle Application Server and other Oracle products.
---
1999/02/01 - C++Builder 4 Announced
Inprise has just announced C++Builder 4 in two editions: C++Builder 4 Professional and C++Builder 4 Enterprise.
According to Inprise Europe, the C++Builder 4 "boxes" should hopefully be ready to ship within two weeks. More news and an overview of the new features will follow shortly, so stay tuned to the C++Builder Machine...
---
1999/01/29 - Inprise and borland.com
Inprise announced a restructuring of the Company with the formation of two separate operating divisions -- Inprise and borland.com. This restructuring allows each division to deliver specific, customized products and solutions to their own distinct, different types of customer: the Inprise division will focus on the growing enterprise customer base -- while the borland.com division can focus on its strong software developer following on the Internet.
More specifically, borland.com will cover Delphi, C++Builder, JBuilder, InterBase and MIDAS, while Inprise will cover the Inprise Application Server, JBuilder for AppServer, AppCenter, VisiBroker, ITS and Entera.


Our Borland is back as borland.com! Focussed on their main development tools and developers again, this holds great potential for the MIDAS, Delphi, C++Builder, JBuilder and InterBase community. I'm looking forward to visiting their new borland.com developer oriented website.
---
1998/11/20 - Inprise offers to help Microsoft
At the Inprise Conference in Tokyo, Inprise offered to license its 100% Pure Java Technolofy to Microsoft.
"Inprise is ready to help Microsoft, Sun and customers of both companies obtain the benefit of 100% Pure Java cross-platform technology by licensing our JBuilder technology to Microsoft," said Del Yocam, Inprise chairman and CEO.
---
1998/11/19 - Sun beats Microsoft
A U.S. District Court judge ruled that Microsoft has 90 days to modify all its products that use the Java technology, to make them compatible with Sun's original specifications. This includes Windows 98, Internet Explorer, Visual J++ and the SDK for Java.
---
1998/11/11 - Inprise Announces Support for Oracle8i
At Oracle Open World this week, Inprise announced support for Oracle8i, the industry's first database for Internet computing.
With this Oracle8i support, Delphi and C++Builder customers will experience higher productivity in building, deploying, and managing Internet applications.
---
1998/06/11 - BORL becomes INPR
In their June 5th meeting, former Borland International shareholders formally approved the new corporate name, INPRISE Corporation. As a result, the corporation's common stock now trades on The Nasdaq National Market tier of the Nasdaq Stock Market under the symbol INPR, effective Monday, June 8th.
And how do you feel about Inprise/Borland? I've just uploaded my personal feelings about the name change...
---
1998/05/01 - Borland Family of Development Tools


Borland wants customers to know that the qualities that made Borland products popular among developers are very important to them. Hence, Borland will be retaining the Borland brand name for their family of development environments that include Delphi, C++Builder, JBuilder and so on.
The Enterprise products, such as VisiBroker, Entera, and AppCenter, as well as the upcoming Enterprise products, such as the Integrated Transaction Service and Application Server, will use the Inprise brand.
---

1998/04/30 - Borland -> Inprise Corp.
Borland International will become Inprise Corporation, and the website at www.borland.com has now moved to the new location at www.inprise.com.
Inprise Corporation will unveil several new middleware software products in the next few months, targeted toward big companies that tie together disparate computer networks.
On Monday May 4th, I'll attend a press meeting with Del Yocam (CEO) and Zack Urlocker at the ArenA in Amsterdam. Any interesting details will be published here right away, so stay tuned...
---

1997/11/20 - Borland to Acquire Visigenic
Borland has signed a definitive agreement to acquire Visigenic, the leading provider of CORBA (Common Object Request Broker Architecture) distributed object technology for integrating heterogeneous software environments. Through its extensive license agreements with Oracle, Netscape, Novell and Sybase, Visigenic has established its VisiBroker as a de facto standard ORB technology in the computer industry.
"As part of our open architecture, Borland's objective is to support all the major standards for distributed computing including Microsoft's COM, DCOM/COM+ and ActiveX technologies, as well as open standards such as DCE, RPC-based distributed computing technology with our Entera middleware technology," said Rick LeFaivre, vice president of research and development for Borland.
---
1997/07/14 - JBuilder Announced
At the Borland Conference in Nashville (read my Conference Report), Borland announced the JBuilder Family of Pure Java Development Tools for Creating Corporate "InfoNet" Applications.
Also at the BorCon'97 in Nashville, Borland and IBM announced a Joint Java Development Effort of Borland (JBuilder) with IBM on IBM's San Francisco Project.
---

1997/02/04 - Oracle licenses JBuilder
Oracle licenses Borland's Java Development Tools. Borland and Oracle announced that Oracle licensed Borland's Java and C++ development technologies for use with Oracle database systems and application development tools.
Under the terms of the license agreement, Oracle will integrate and distribute Borland's C++Builder and JBuilder with a number of Oracle's existing and future products, including Developer/2000, Designer/2000 and Sedona.
Lawrence J. Ellison, Chairman and CEO of Oracle Corp. and Del Yocam, Borland's Chairman of the Board and CEO, seal the deal.
---
1996/11/18 - Borland C++Builder announced at COMDEX
Announced at Comdex and unveiled on Borland's web site, Borland C++Builder the only Rapid Application Development tool for C++, that combines real visual development with real C++.
Borland C++Builder (aka Ebony) is built on the award-winning Borland C++ compiler technology, and shares with Delphi the proven Visual Component Library, intuitive IDE, and visual Two-Way Tools.
---
This webpage © 1996-2017 by Bob Swart (aka Dr.Bob - www.drbob42.com). All Rights Reserved.