Borland Developers' Conference
London, April 20-23, 1997
Last year was the first time I went to a Borland Developers' Conference in Europe, London to be precise. Much smaller than the US conferences, which gave me more a "family" feeling (in London). This year was no different from the first time, and I enjoyed it.
---
The European Borland Developer's Conference 1997 in London was host to a few hundred enthusiastic developers of Borland products. Mainly from Europe, but I've also seen people from the States, the Far East and Australia. As far as I could see, the main interest was Delphi, although C++Builder and JBuilder came in as close seconds. I didn't hear much about IntraBuilder, although the internet/intranet sessions were generally just as hot as the Delphi 3 ones.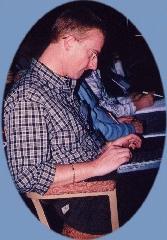 There were over 40 technical sessions and a number of pre-conference tutorials (Marco Cantú on C++Builder, for example - who can be seen in the picture on the left, busy during a sessions about Delphi 3: updating his set of "Fun with Delphi" samples, no doubt).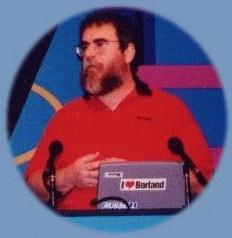 Keynotes
The Opening Keynote by David Intersimone (aka DavidI - see picture on the right) focused on Borland and the Golden Gate Strategy. David also mentioned the fact that each quarter we'll see (at least!) one major product release from Borland. In Q4 1996 this was IntraBuilder, Q1 1997 brought us Borland C++Builder, and the Conference in London was the official European release of Delphi 3 in Q2 1997. We can expect JBuilder (currently in beta) to ship in Q3 1997, followed by IntraBuilder 2.0 in Q4 1997 and C++Builder 2.0 in Q1 1998 which ends this fiscal year. At the big Borland Conference in Nashville, Borland CEO Del Yocam will outline 3-year strategy of Borland. Surely a reason in itself not to miss the Nashville event!

Delphi 3
At the opening keynotes of both days, DavidI showed a lot of Delphi 3. Especially the Code Insights and packages were shown, but also the One-Step ActiveX and ActiveForm features. People were really pleased when boxes of Delphi 3 appeared on the first day, and rumour has it that the first Delphi 3 ActiveX controls were built during lunch of the first day (that might also explain the lack of people attending the product vendor sessions - during lunch!).
Future development on Delphi 3 is said to include the integration of Entera (from the Open Environment Corporation merger) with Delphi 3 Client/Server.

Delphi 1.5
When DavidI was asked about Delphi 1.5, a new 16-bits version of Delphi 1 with features like Form Inheritance, Data Modules, etc., he just had to tell us that the decision has been made not to invest any time, money or other resources into this project so far. Right now (after Delphi 3 has shipped), the issue might be open for another reconsideration, but he made it clear not to hold our breath for Delphi 1.5.

JBuilder
There were some JBuilder sessions, although the product is official not even in (public) beta. Hence, it wasn't surprising that not all of the sessions could show us complete working examples. In fact, even DavidI managed to get some unexpected results out of JBuilder at the closing session. At 60% Java and 40% Delphi (but working on a 100% Java version), it should take some hard work to make a clean and mean version to ship in Q3 1997. But at least a lot of people are waiting for it! A public web beta of JBuilder is said to start Real Soon Now, Really.

Sessions
The European Borland Developers' Conference in London had four session threads, and five sessions each day (two before lunch, three after). Not counting the keynotes by DavidI and the evening sessions, that is. The four threads offered Delphi Tools & Techniques, Delphi Programming, C++ & internet/intranet, and C/S & general. Usually the choice was between one or two interesting sessions. Most speakers were well prepared, and luckily the occasional "bad" speaker was found to have a good paper on the CD-ROM (not that good speakers didn't, but it would've been worse if a "bad" speaker had a likewise or no paper, right?).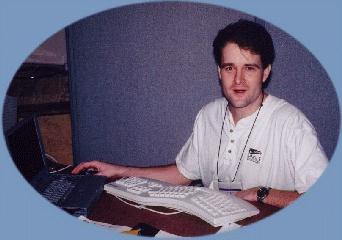 Vendors
A lot of the usual vendors could be found in London. I saw the joint-stand of The Delphi Magazine and the UK-BUG Borland User Group (formerly known as Delphi User Group), Raize Software (nice to see Ray Konopka again), Eagle Software (Mark Miller - author of CDK, reAct and the upcoming Raptor - is in the picture on the left just wondering what happened to my hat - my kids must have misplaced it!), DFL, ImageLib, ShoreLine Software, SuccessWare, Prentice Hall, Borland, and probably a lot more (sorry for everyone I forgot to include in this list).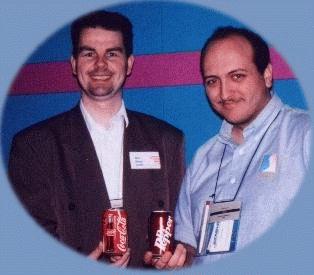 IAG
One of the most impressive component I saw on this Conference is the IAG Internet Application Gateway from ShoreLine Software. This component can take your existing 32-bits Delphi application and turn it into an internet (browser) application. This means that it will generate HTML on the Browser site, and be able to handle CGI and ISAPI requests on the Web Server side. All transparent to the user (i.e. programmer). And they could trigger the IDE Debugger as well (I still haven't found out how they do that, eventhough I can be seen to (try to) "bribe" Chad with a can of Dr.Pepper in the picture on the right).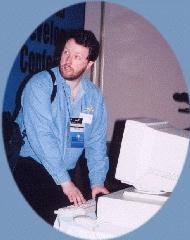 Organisation
Like last year, the event was organised by Dunstan Thomas and Desktop Associates. Too bad the conference T-shirt only had a small logo of the Borland Conference itself.
The food was tasty. However, lunch almost did take up the 1.5 hour that stood for it, which meant that if people wanted to eat, they could not attend the vendor sessions which were planned during lunch. I now more than one vendor who didn't quite like this deal.
Another problem was caused by speakers who didn't bring their own machine. Two desktop machines were hired, but without a video splitter, so people could either see the monitor or the view screen (at their back). Not both at the same time (like with a portable). The picture on the left shows Mike "TeamB" Scott muttering: "Hoots mon, the sassanachs hivnae even got a video splitter!".
Next Year
The London Conference was smaller than the US one, but more "family" at the same time. I certainly enjoyed myself (and the shopping day after). Seeing people you know is more entertaining than getting lost in thousands of other developers (at least to me it is). So next year, I hope to see you again in London again.
And Mike, don't forget to bring yourself a video splitter!
---
This webpage © 2000-2015 by Bob Swart (aka Dr.Bob - www.drbob42.com). All Rights Reserved.