Dr.Bob Examines... #86
Note:
Delphi Spacely is the upcoming version of Delphi 2007 for Win32 from CodeGear, which is focused purely on the core Delphi native Windows/Win32 developer customer base.

Delphi Spacely screenshot (on Windows Vista)
Take a look at a full-size screenshot of Delphi "Spacely" running on Windows Vista, supporting Vista enhanced Aero UI, controls, effects, and APIs. The screenshot shows the ActionBars WordPad demo running in Delphi 2007 (and there are some interesting things to note, which I'll list below the screenshot itself):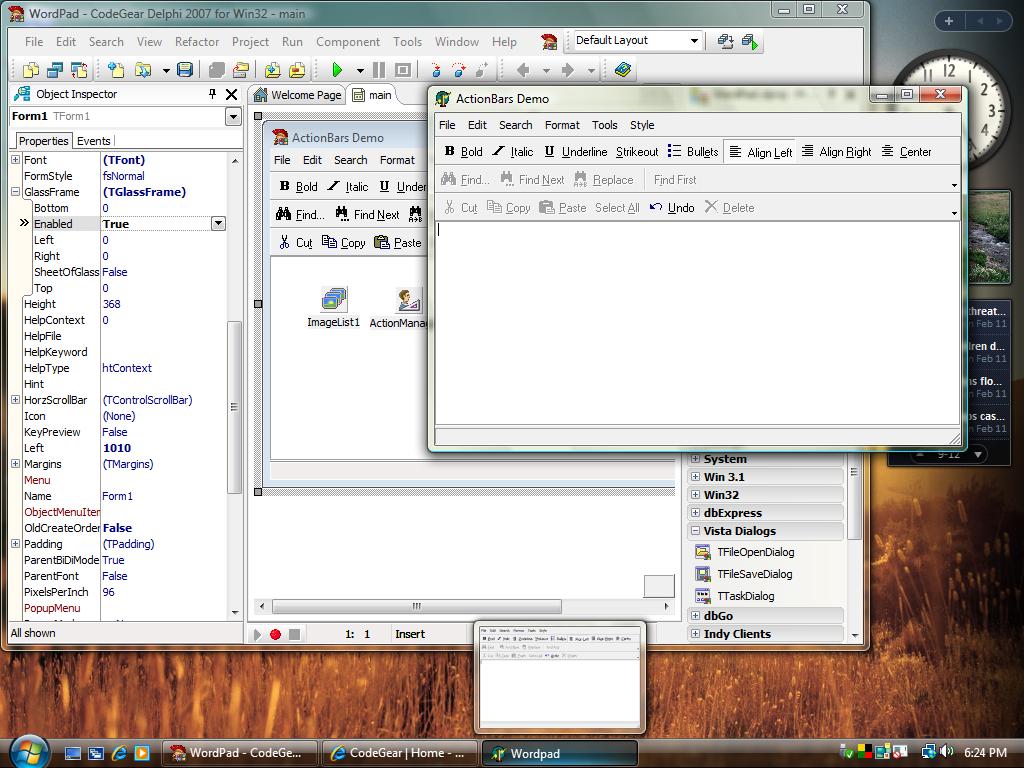 There are a number of interesting things to note:
The caption of the IDE says "CodeGear Delphi 2007 for Win32" (no mention of Borland anywhere).
We can see the WordPad demo application with "Glass Effect" in the TitleBar and Border of the window (and also see the little preview window in the taskbar).
The CodeGear Delphi 2007 for Win32 IDE itself can also be seen to use the "Glass Effect" in the TitleBar and Border.
The Object Inspector shows the new GlassFrame property, with subproperties for Bottom, Left, Right and Top as well as SheetOfGlass and Enabled (which happens to be the only subproperty used in the demo).
The Tool Palette has the "Vista Dialogs" tab open, and shows the new Vista TFileOpenDialog, TFileSaveDialog and TTaskDialog components.
It's also good to see that the Win 3.1 tab is still present in Spacely ;-)
---
Also available: Highlander News (Delphi for Win32 and .NET 2.0).
---
This webpage © 2007-2010 by Bob Swart (aka Dr.Bob - www.drbob42.com). All Rights Reserved.