First of all I want to wish everybody a happy new year!
This is the last article in a series of four articles about Borland JBuilder FE, the free Java IDE.
The last couple of days we have looked at some new and improved features of JBuilder 3 Foundation Edition. But those of you who have downloaded FE and also use a regular JBuilder 3 Profesional or Enterprise version, will have come across some limitations. JBuilder FE is, hence the name, the foundation of future releases of JBuilder. These future releases will be for example a professional and / or an enterprise edition. We have to pay for these releases, and the features which are disabled in FE, will be enabled in the other releases.
JBuilder FE contains a couple of wizards, for creating applications, classes, and applets. Other wizards, for creating servlets, interfaces, Enterprise JavaBeans and more, are disabled.

JDK switching isn't possible with FE.

The JavaBeans Express Wizards is disabled. So we cannot use this wizard for easy creation of JavaBeans.

The code template feature works for the templates we received with JBuilder FE, but we cannot create our own.

The Borland components for accessing databases and CORBA components are disabled.
And Linux?
I am quite new to Linux. One of the reasons I didn't use it, was the lack of desktop software. But JBuilder 3 FE is a good reason to install Linux on a machine and play with it, because it works! Please keep in mind you have a Linux with glibc 2.1 or higher, because else it will not work. Installing JBuilder 3 FE is easy. First we must install the JDK1.2.2 Release Candidate and then we can install JBuilder 3 FE. See Java Madness: Using JBuilder Foundation by Charlie Calvert for a good article on how to install JBuilder 3 FE on Linux. And when we start FE, we have the same environment as on the Win32 platform: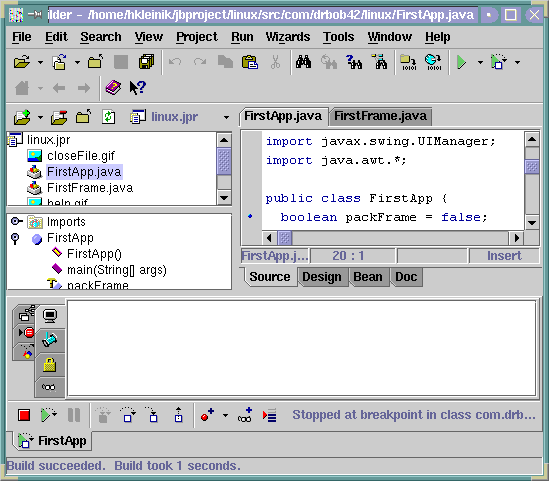 Inprise is providing a lot of tools lately for the Linux platform, for example Visibroker is also available for Linux. I think it is good to have such development tools available on more than one operating system, so we can really be platform independent with our (Java)software.

This article concludes the overview of JBuilder 3 FE. We will probably encounter FE in the JBuilder JAR tips sections later this year...
Give it a try: it is free, easy and useful!
---
This webpage © 1997-2009 by Bob Swart (aka Dr.Bob - www.drbob42.com). All Rights Reserved.