Dr.Bob's Kylix Kicks
Kylix Screenshots provided by and with permission from Michael Swindell, Inprise/Borland Director of Product Management - Kylix
Happy June!
I'm pleased to report that Kylix is moving at full steam and major milestones are being hit every week now. While beta testers put the new compiler and component library through it its paces the IDE team is readying everyone's favorite developer UI. The following is the first public glimpse of the Kylix IDE alpha captured June 5th for your oogling pleasure. A tip of the hat is definitely in order to Allen and the entire IDE team.
Our warmest regards,
Go Kylix!
-Michael

Michael Swindell
Director of Product Management - Kylix
Inprise/Borland
Kylix on Gnome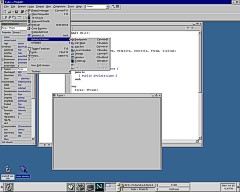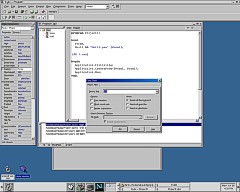 ---
This webpage © 2000-2009 by Bob Swart (aka Dr.Bob - www.drbob42.com). All Rights Reserved